GM Safety rail installed on a new Airbus site in Toulouse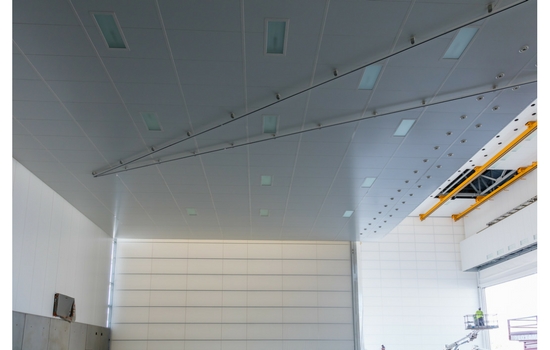 A specific study
In collaboration with the final customer, our customer installer and the carpenter metalworker of the site, our design department has adapted our safety rail according to a specific fixing; Directly bolted to suspenders interdependant to the framework, the product guarantees safe and perfectly fluid movements to the technicians in charge of the painting retouches on the A320.
In addition to this objective of ease and comfort for the end customer, the challenge was also to ensure the durability of the installation in a hostile environment: our safety rail, which is completely enclosed in a protective cover, is thus preserved from volatile residues arising from painting operations.

Located directly on the entire length above the wings of the aircraft, our safety rail meets this ambitious specifications: the operators evolve in complete safety, ensured of a perfect circulation of the shuttle thanks to its ball bearings.
One goal: Make height safety easy and non-binding
Click here to see the safety rail data sheet.